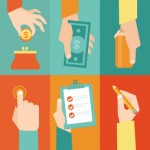 A recently published article in the New York Times by Ann Carrns discusses FICO data that indicates that credit card use among young adults, ages 18 to 29 is declining substantially. FICO is one of the most used credit reporting and scoring agencies, and their data from 2012 showed that 16 percent of people in this age group did not have any credit cards. That's a 78% increase from the pre-recession 2005 level of 9 percent among these young adults. This is partly attributed to changes in credit card laws, which made it harder for people under 21 to qualify for a credit card. But, it also appears that the recent Great Recession has affected these young adults as well.
In the article, Fredric Huynh, the leader of the FICO research, points out how not using credit cards can create a problem when these young adults do seek a loan, since they may not have any kind of credit history necessary in order to obtain one. He cites credit card use as "very influential and critical" when lenders evaluate creditworthiness. In a recent post on Businessinsider.com, Ashley Tate cites the FICO data and offers these young adults some advice on "How to Build a Solid Credit History." Actually, any age group can utilize Tate's advice to improve their credit scores.
Here are Tate's 6 recommendations:
Make timely payments on your utility and other bills that report to credit reporting agencies.
Report your rent through third-party companies, such as WilliamPaid or RentalKharma, if your landlord or rental agency does not provide information to credit reporting agencies.
Use a school loan if you are a student and be sure to make your installment payments on time.
Finance a car purchase and make on-time monthly payments.
Find an unsecured credit card that reports to the credit reporting agencies.
Become an authorized user on a reliable person's credit card, such as your parents or spouse.
Keep in mind that if you follow these steps but do not make timely payments, it has the opposite affect on your credit history and score. Even if you do have bad credit at the moment, you may still qualify for higher interest loans, sometimes called sub-prime loans. If you pay these loans back on time, it can build your credit history and save you money in the future if you qualify for prime rates, which are the lowest interest rates.