Business Loans
Who knows better about effective cost management than the savvy professionals, the bright entrepreneurs who start small businesses every day and fuel the very functioning and growth of our highly-networked economy. However, starting a small business requires not only talent and manpower, it also requires a steady stream of financing. For most businesses, this often means resorting to a small business loan.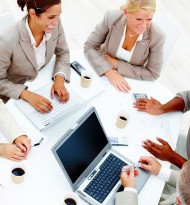 Small business loan can be used for a variety of business needs, including startup capital, working capital, inventory, payroll, technology and equipment, business expansion, new market penetration, marketing, sales, day-to-day operating expenses, or any other routine business need.
Interest rates on small business loan shouldn't break your business
Small businesses operate on a very thin margin and a small business loan should only maintain that trend. We understand. In order for you to obtain the best small business loan, we have selected numerous lenders who will offer very good rates in the market. You compare their offers and save.




Advantages of applying for a small business loan through Loans.net
Obtain money fast. Funds deposited into your business checking or savings account in as little as one to three business days.
The possibility of obtaining an unsecured business loan — no collateral required for certain programs.
No application fee. It is free and easy to compare and save on loans offered by numerous lenders.
Startups are welcome.
Attractive loan terms.
How to Apply for a Small Business Loan
Ask any entrepreneur and you will be told that the secret mantra driving the success of any business is its liquidity. The more liquid a business is, the more efficiently it will run. From paying employees to securing deep discounts from vendors, liquidity rules. How is a business operation to be liquid, though, considering the constant outflow of cash it faces on a regular basis? Tapping into cash reserves may be out of the question, so the solution essentially boils down to a small business loan.
Fortunately, there are numerous options for obtaining a small business loan. We'll discuss just some of these avenues in this article:
Small business loans offered by private lenders
Another important resource for small business owners is a small business credit card. Typically, the small business credit cards come with a variety of perks, including fixed percentage cash back bonuses on every dollar you spend, travel rewards, merchant discounts, and a host of similar conveniences. Often, a senior executive from within the organization or the owner will have to serve as a guarantor to be able to secure a small business credit card. As such, the credit worthiness of the individual and the business would be crucial.
Compare terms & rates
Loans.net has one main principle: compare to save. We have found a way to simplify the process of comparing small business loan terms by providing a ready network of the industry's most reputable lenders. By filling out our simple online form, you can start receiving free quotes in order to compare the different terms and rates, and choose what suits you best.




SBA-backed loans
Small Business Administration (SBA) often works with private lenders to offer what is called SBA-backed loans. These loans typically come with lower interest rates due to the relatively low risk (for lenders) associated with the backing provided by Small Business Administration.